DIET & ICE CREAM
ICE CREAM 0% WITH NO ADDED SUGARS
The fat content of all ice creams in this category is low and of vegetable origin. The ice cream is also free of added sucrose and its sweetness is derived from Maltitol, a bulk sweetener, and an intensive sweetener, Stevia. Maltitol is a polyol derived from Malt and it's friendly to teeth and suitable for diabetics, and obesity. Contrary to the common sugar, it is a low glycemic response product, and therefore gives a satisfactory metabolic balance. As a consequence, its consumption does not lead to an increase in blood glucose level and stimulates a very low level of insulin production in the blood. Stevia is about 100 to 300 times sweeter than sugar, but has no carbohydrates, calories or artificial ingredients.
Due to the presence of polyols, excessive consumption may induce laxative effects.
1.

CHOC ICE 0% SUGAR

 The classic Choc Ice with dark chocolate coating with no sugar and reduced calories. 
2. AGRINO CONE 0% SUGAR
A light ice cream in cone garnished with chocolate syrup with no sugar.
3. MEGA 0% SUGAR ICE CREAM
STICK
A vanilla ice cream stick with chocolate coating and no sugar.
4.

REGIS 

VANILLA & STRAWBERRY

TUB

WITH

0% SUGAR

A refreshing ice cream in 190ml tub containing two delicious flavours. 
5.

REGIS 

VANILLA & CHOCOLATE

TUB

WITH

0% SUGAR

Ice cream in 190ml and 125 ml tubs containing Vanilla & Chocolate or Vanilla &  Strawberry ice cream.
6
. FAMILY ICE CREAM IN ONE LITRE PLASTIC CONTAINER WITH TWO FLAVOURS, VANILLA AND CHOCOLATE WITH NO SUGAR
This family reduced calorie ice cream also has a very low fat content of 2.6 g per 100ml.
7. QUATTRO ICE CREAM IN TWO LITRE PLASTIC CONTAINER WITH FOUR FLAVOURS AND NO SUGAR
Our largest family package with four flavours of reduced calorie ice cream. With a very low fat content of 2.6 g per 100ml.
All ice creams listed above can be consumed by diabetics.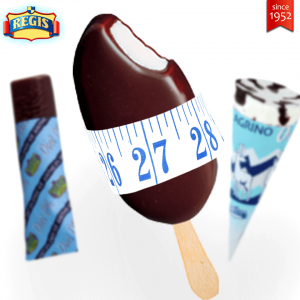 NUTRITIONAL VALUE OF REDUCED CALORIE ICE CREAM PER PORTION
For your own better information regarding these products please see below a table with the average nutritional value for each ice cream.
Product
Energy
Protein
 Carbohydrates
Fat
Total
Polyols
Sugars
Total
Saturated
Choc ice  0% sugar 110 ml
635 kJ
2.2 g
16.9 g
14,0 g
3.1 g
11.0 g
8.6 g
153 kcal
Agrino cone – 0% sugar 135 ml
698 kJ
3.1 g
24.4 g
15.0 g
3.1 g
9.0 g
7.3 g
167 kcal
Mega 0% sugar 100 ml
574 kJ
2.0 g
15.5 g
12.7g
2.8 g
10.0 g
7.8 g
137 kcal
Regis Tubs /  0% sugar  190 ml
802 kJ
8.2 g
39.5 g
27.9 g
11.6 g
4.9 g
4.6 g
192 kcal
Vanilla & Strwberry or Vanilla & Chocolate /  0% added sugar /  125 ml
527 kJ
5.4 g
26 g
18.4 g
7.6 g
3.3 g
3 g
126 kcal
1 Litre Vanilla & Chocolate – 0% sugar
422 kJ/100ml
4.3 g/100ml
20.8 g/100ml
14.7 g/100ml
6.1 g/100ml
2.6 g /100ml
2.4 g /100ml
101 kcal/100ml
Quattro 2 Litres – 4 flavours – 0% sugar
422 kJ/100ml
4.3 g/100ml
20.8 g/100ml
14.7 g/100ml
6.1 g/100ml
2.6 g /100ml
2.4 g /100ml
101 kcal/100ml